If you're reading this page, you probably are searching for the best immigration attorney near me or top immigration lawyer near me. And I am glad you landed on this page.
Finding a genuine, professional, and experienced lawyer who will go above and beyond to fight for your rights and ultimately win your case is probably a difficult task.
Some people get lucky and find a good immigration attorney through word-of-mouth from friends and family. You can also search online. For instance, you can Google "best immigration attorney in Van Nuys, Ca".  However, you will likely find over a thousand names that pop up when you're searching for an immigration lawyer near you. So how does one find a diamond in a rough?
Whether you are looking to apply for a visa or green card, avoid deportation, or applying for other immigration benefits, you want a local immigration attorney.  One who will care about your case and is the right attorney who's on your side.
Here are four tips to find the best immigration attorney near you:
Ask friends, family or local community for local immigration attorney references:
If you are an immigrant, chances are you have relatives or friends who have had to go through the immigration process to obtain their residency.  And they may have had hired an immigration attorney at some point. Ask them for the immigration attorney's name and contact information and if they were happy with their attorney. This is a good start to look up the names they give you so you can do your own research. Search the attorney's name and credentials online and see if they have any negative reviews or comments about them.
You can also reach out and ask people about their experiences with the immigration attorney they are commenting about. Some immigration lawyers have YouTube video testimonials that can help you get an insight into the attorney's reputation.
Avoid dealing with "Visa Consultants," "Notarios," or "Petition Preparers":
Make sure you are hiring a real immigration attorney that can guide you on the proper path to a life in America, guard against those who might take advantage of you, such as notarios and other unscrupulous "consultants".  There are many notarios out there that are not licensed nor qualified to take your case and will give you false hope about your case or status. Don't waste your time, money, and the future of you and your family with such individuals.
Beware of immigration attorneys that make illegal offers and make unrealistic promises:
Let's say you find one who claims to be the best local immigration attorney and during your consultation, he or she promises you a 100% success rate. That is a major red flag! Stay away from that attorney! Not even the best immigration attorneys can guarantee 100% success. The outcome of your case is up to an immigration judge, the Department of Homeland Security, and/or USCIS.
Interview multiple local immigration attorneys near you before making your decision: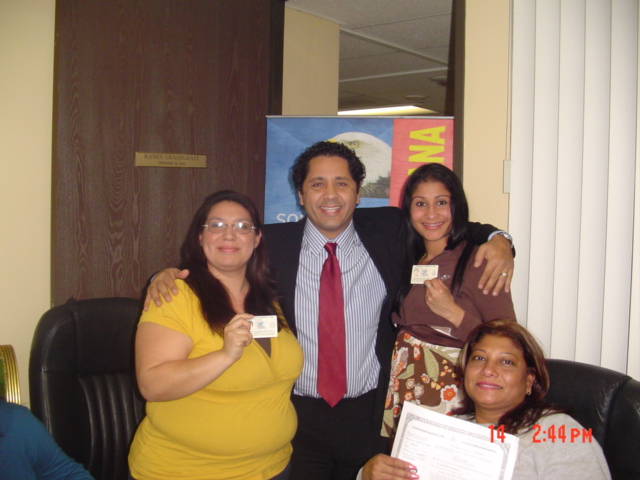 Nowadays, you can find a lot of information online about immigration attorneys via websites and social media sites like Facebook. If an immigration attorney has multiple good reviews, chances are they are popular with the public and are liked by their clients.
Be sure to talk to several immigration lawyers near you to get some basis for comparison before choosing the one who will be representing you. This way you will get a chance to "feel out" various immigration attorneys to get a sense of their personality and work philosophy to determine if they will be a good fit for you.
In some cases, getting a second opinion may reveal that the first attorney did not fully understand your case or the law, or was trying to take your money to do something impossible or unethical.
Immigrating to the United States can lead to wonderful opportunities, but it also can be a stressful, difficult process. Doing it by yourself can often be confusing, dangerous, and costly. You need the protection of a dedicated Immigration Law Firm that will guide you on the proper path to a life in America.  Selecting the right local immigration attorney will guard you against those who might take advantage of you, such as notarios and other unscrupulous "consultants."
I hope this page has helped you along your path of finding the best immigration lawyer near you and best of luck!